our solutions
247 IT Support
Why Every Company Needs 247 IT Support
Companies around the world have considered 247 IT support as a core part of their organization. It's an expensive feat to pull off. Regardless, it's considered a necessary evil as companies are spending fortunes on maintaining a stable IT department simply because of how important it is. If you're here wondering exactly why you should be doing the same, you're at just the right place. Here's why every company needs 247 IT support.
247 IT Support - Zero Downtime
Every organization needs zero downtime. Your IT infrastructure plays an important role in keeping the business running. Even a few minutes of downtime is enough to make you lose thousands of dollars in sales and countless customers.
If you really want to make sure that your IT infrastructure faces the least amount of downtime possible, you need a 247 IT support team that can tackle any issue right on the spot.
Constant Availability
One of the main issues about running a business over the internet is that people often don't realize that there will be times when even your in-house IT department will not be available.
For instance, your company won't have any support staff on duty during the weekends. They might not be available on the holidays.
If you hire a 24/7 IT support team, you can guarantee they'll be available regardless of what time of the year it is.
Customer Retention
Every customer behavior study in the world has shown that real-time feedback and fast response are something that every customer needs.
If they need to make a purchase but have to wait for hours for you to process your technical issues, it's safe to say that you'll be losing a customer.
Investing in 24/7 IT support is a phenomenal way of increasing customer retention.
Your clients will become loyal to the brand when they realize that no matter when they log on to your site, it's functional and working at its 100% capacity.
This helps you improve the amount of revenue that can be gained from a single customer account.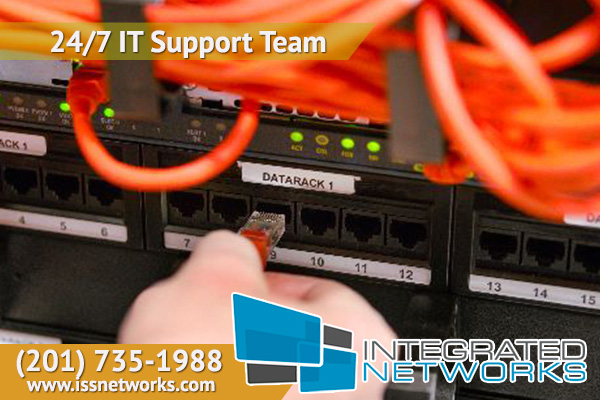 247 IT Support Team
With that said, we can easily say that even though 24/7 IT support is a pretty hefty investment, it offers great ROI. You'll lose a portion of your revenue in IT support, but you'll make it back and more in the form of profits you make due to the proactive system repair and maintenance you get from a 247 IT support team.
Furthermore, if you're looking for the right company to take over your company's IT requirements, you've found it. Integrated Networks is one of the most solid and reliable companies in offering 247 support and IT maintenance for your business in the New York and New Jersey area.
If your company requires solid IT support, it doesn't get better than Integrated Networks. 
Cyber Security for Business
A vulnerability is a weakness in design, implementation, operation, or internal control. An exploitable vulnerability is one for which at least one working attack or "exploit" exists. Vulnerabilities can be researched, reverse-engineered, hunted, or exploited using automated tools or customized scripts. To secure a computer system, it is important to understand the attacks that can be made against it. Like an example a backdoor in a computer system, a cryptosystem or an algorithm, is any secret method of bypassing normal authentication or security controls.
Denial of service attacks (DoS) are designed to make a machine or network resource unavailable to its intended users. Attackers can deny service to individual victims, such as by deliberately entering a wrong password enough consecutive times to cause the victim's account to be locked, or they may overload the capabilities of a machine or network and block all users at once.
An unauthorized user gaining physical access to a computer is most likely able to directly copy data from it. They may also compromise security by making operating system modifications, installing software worms, keyloggers, covert listening devices or using wireless mice. Even when the system is protected by standard security measures, these may be able to be by-passed by booting another operating system or tool from a CD-ROM or other bootable media. Disk encryption and Trusted Platform Module are designed to prevent these attacks.
Phishing is the attempt to acquire sensitive information such as usernames, passwords, and credit card details directly from users by deceiving the users. Phishing is typically carried out by email spoofing or instant messaging, and it often directs users to enter details at a fake website whose "look" and "feel" are almost identical to the legitimate one.